Happy This "N That Thursday!!
Linking up with the always delightful Katie & Jena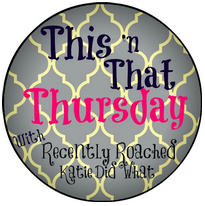 THIS ~ is my friend Nancy who passed last year..


I spent the weekend in the Bay area at her birthday party celebrating her life..
I miss her.

THAT ~ We all had a fabulous time toasting her & sharing funny stories..
I miss her quirkiness.

THIS ~ I got to hang out with a couple of friends I haven't seen in 25 years..
seriously..there's never a good excuse to let 25 years pass by without a phone call, text or visit
do it today



THAT ~ I made 2 new wild & crazy friends.

THIS ~ Had lunch at The Madonna Inn on the way up.
Super awesome place, you must stop by if you ever have the chance..
So much fun



Pink sugar on the table..how cool is that?



and a rock candy stir stick with my iced tea!!
so awesome

THAT ~ I've had a headache since Monday, I think I have a sinus infection & I don't want a sinus infection cause I'm getting all my vintage (I was going to say old but went with vintage instead) fabric from the attic so I can start sewing my very own designer baby clothes & I am way too busy to get/be sick…
Monkey Monkey Underpants

THIS ~ I have a book club meeting in one week & I have not even started the book..
BUT..
I have watched at least 20 hours of Pretty Little Liars this past week..
I'm hooked.

THAT ~ My purple sunflower popped while I was away..