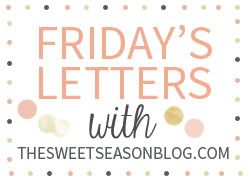 Dear Dad..
We put the phone in your bathroom for emergencies, please don't answer it when you are..
ummmmmmm..
busy.



Dear Bathroom Scales..
YaY!!
Was hoping for a slightly lower number but..
YaY!!



Dear DMV..
I hate you!
I hate you!! I hate you!! I hate you!!
Your lack of organization..
your complete lack of the itsy-bitsy-ish-bit of empathy..
your snippy attitude..
makes me want to seriously punch you..
HARD!!
but..I got what I needed..
and you & I not need to see each other for a very, very long freakin' time.

My Dearest Lauren..
Thank you..
I love you.


Dear January..
I'm a bit sad to see you go, we've been good together.

Dear Me..
I am so frickin' proud of you this month!!
YOU DID IT!!
You stuck to your plans & followed through!!
Good for you..
February will only be bigger, better & brighter.