Happy Thursday to all!
Linking up with the captivating Katie for This 'N That Thursday..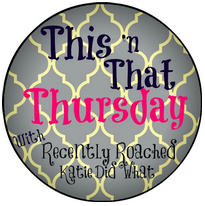 Because I woke up with THIS song playing in my head...

I've decided THAT today is unofficially Matchbox Twenty Day.

THIS ~ I saw them in concert & they were awesome!

THAT ~ Had seats on the floor..
which would have been amazing if..
they were front row seats..
or..I was 6'4.

THAT-B ~ was excited when I heard Alanis Morissette was opening for MBT..
she was awful..

THIS ~ is my favorite MBT song..



THAT ~ but..my favorite concert EVER..
Maroon 5..
yeah, I know, you're shocked..
the concert was absolutely awesome..
best ever!!

THIS ~ oooops..
back to Matchbox Twenty..

THAT ~ love this song too..



and this one..



this one too..



Happy Matchbox Twenty Day!!