My wonderful daughter found this fun blog 'Katie Did What'. Very easy to see why it's become one of Lauren's favorite blogs to stalk. Katie's posts are sweet and cute and every Thursday is 'This & That" over there. So, since today is Thursday, pop on over, check her out and link up.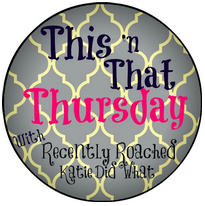 This..I haven't been blogging in a long, long time, haven't been in 'that place'. With a little inspiration from my amazing
daughter
..I'm baccccccccccccccck...
That..last night I finished reading Rapture by Lauren Kate. So glad to be have that series over and done. Not my favorite read.
This..finally got around to baking the cookies I promised to my youngest sometime back around...hmmmmm...July?? Wow, I suck. But I did bake 12 dozen peanut butter and 12 dozen snickerdoodles. That'll hold him for a bit...maybe.
That...The Voice said good bye to my fav Melanie Martinez Tuesday night. Love her uniqueness and looking forward to seeing what she does next. Great job and the very best wishes...


This..definitely setting out too much bird seed..
poor little guy could barely muster the strength to fly away..


That..I miss this face more than I can say..